Resinbond driveways
Stunning finishes can be created by installing a Resinbond driveway, patio or pathways to your home.
A Resinbond driveway is made up of different shapes, sizes and colours of aggregates such as quartz and granite blended together with a strong UV resin. This mixture is then laid by hand using a trowel on top of your existing driveway or hardstanding area.
By laying it by hand, cracks and holes can easily be filled by the mixture creating a flawless finish.
In differing natural colours, unique driveways, patios and pathways can be created. What looks great is if the Resinbond driveway is edged in block paving. Speak to a member of our friendly team who will be able to show you images of recently completed Resinbond driveways in your area.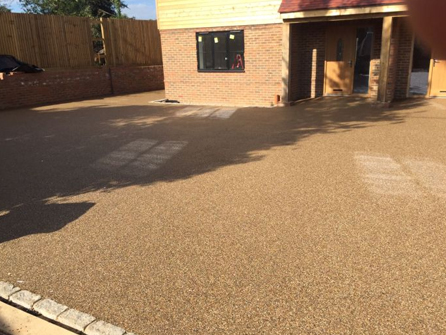 Stunning driveways which will not fade in the sun due to the UV resin used, anti slip surface along with being resistant to weed growth and petrol spillages, a Resinbond driveway could be just the kind of driveway you are looking for
No Deposit is needed before we get started and our competitive quotations are offered with a 14 day cooling off period for your peace of mind.
You can rest assured that all our quality Resinbond projects are fully guaranteed. Our family run team are reliable and trustworthy and waiting for your call. If you would prefer to contact us by email then fill in our online form, we will get straight back to you.